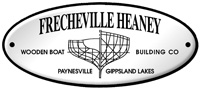 59, Slip Road,
Paynesville VIC 3880.
Australia
Phone/Fax:
+613 5156 7085
Email:
office@fhboats.com.au
Specializing in the restoration and building of fine craft.
Weapon Of Choice
Weapon of Choice is now for sale $11,000
This well performing lightweight and stiff boat is now for sale. Underweight with correctors fitted
. Lots of custom made carbon fittings.
Fast and stylish.
Contact us for a test sail.