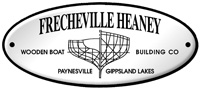 59, Slip Road,
Paynesville VIC 3880.
Australia
Phone/Fax:
+613 5156 7085
Email:
office@fhboats.com.au
Specializing in the restoration and building of fine craft.
Toonalook
SOLD
Toonalook is for sale. She is a good boat and a proven one at that with a successful Bass Strait crossing in 2006. Read all about her story elsewhere on our website.
As she is now not a new boat she is on the market for $50,000.